Spokane International Airport Parking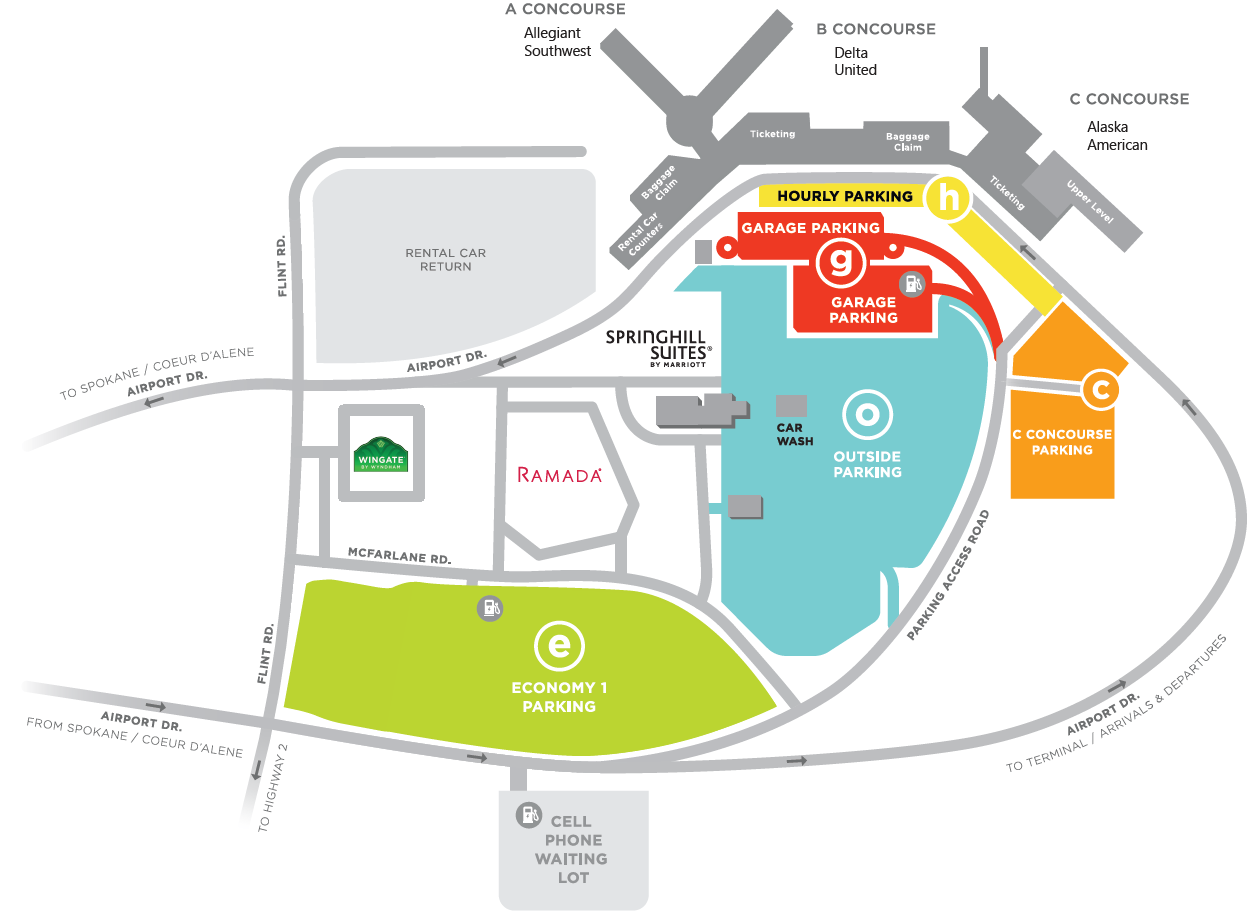 For more Info Contact Spokane Airport Parking at: 509-455-6457
* All of our prices include WA State Sales Tax. We accept American Express, Discover, Master Card and Visa


Each additional 24-hour interval: $12.00 (Garage), $8.00 (Outside, C Concourse), $6.00 (Economy)
ADA accessible parking is available in all Lots and Garages. Elevators are available to all floors of the Parking Garage. Skybridge access to all Concourses is on floor 2.
For your Safety and Vehicle Security all Parking Areas are fenced and illuminated.
Cell Phone Waiting Lot:

Take advantage of the Cell Phone Lot while you wait for friends or family to land.

Economy Parking Lot Customers Only: Complimentary shuttle service is available between the Airport's Economy Parking Lot and the Airport terminal beginning at 3:30am through the last flight arrival. Shuttle buses operate on a continuous loop approximately every 15 minutes, so there is no need to call for a pickup. After parking, walk to one of the marked shelters in the Economy Parking Lot for pickup and transport to the Airport terminal. The shuttle drops off at the terminal and picks up at two locations- the Economy Parking Lot shelter located near the C Concourse baggage claim and the terminal curb near the rental car counters. From the Economy Parking Lot it is an approximately 10-15 minute walk to the Airport terminal, and there are complimentary baggage carts placed at several locations in the lot for your use.
Emergency Assistance boxes are available throughout all Spokane International Airport parking lots to assist customers who get locked out of their car, have a low tire or need a jump start. Look for a yellow "Emergency Phone" sign or blue "Assistance" post and press the button on the box to notify us of your issue.
Complimentary Level 2 chargepoint EV stations are available in the Garage, Economy Parking Lot and the Cell Phone Lot.